October 2002
10-31-02 Cmonkey
Happy Halloween everybody! I've just found a huge short cut in getting SpongeBob pics! Well, actually, it doesn't take much less time, but I saved 11 GB of space on my computer! err... don't ask. It's the end of the month, and I'm done with the links section for now. It's off to a good start. I'll come back to it in a month or two. I'll add more letters tomarrow. I 'm going to try to get the new DVD as soon as it comes out on the 5th. I'll a bunch of stuff from that, then. And, for halloween, here's an animated pic of Nosferatoo.(from the graveyard shift episode)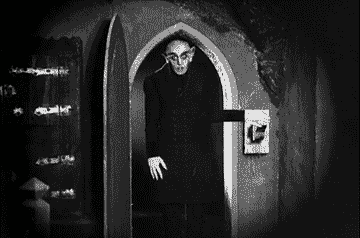 10-29-02 Cmonkey
My site has a mirror now! spongezone.shacknet.nu It's a lot more reliable than my current website host. It's also faster. I guess you could bookmark it if you have a SpongeZone craving while this site isn't working (which is often, sadly). Eventually, I might completely switch over to that. It's going to be a while until then. Maybe in December. It's hosted on the server at my school.(thanks Will!)
10-28-02 Cmonkey
Sorry I didn't update for a while. I had a busy weekend. I added a few more links for today. The surprise is getting so close, I can almost taste it. Also, I watched Krusty Love for the first time on Saturday. Unfortunatly, It's the worst piece of garbage that I've seen on my 35" Sony in a while. Now I understand what Stephen Hillenburg meant by ending the show before it got bad. None of this season's episodes have actually been good. There are 10-12 more new episodes until the movie comes out. If those end up just as bad, then I won't be surprised if Mr. Hillenburg doesn't return to the show after the movie. There's still hope, and I really want to see this show continue on to at least 100 episodes. I guess the movie will decide it all.
10-24-02 Cmonkey
More in the Links section. Hmm, I have the opportunity to get a new website host. I'll tell more when I learn more.
10-23-02 Cmonkey
The links section is started, but not even close to done. This is only 1/10th of what it's going to be when I finish. I'm going to add as many sites as I can until the end of the month. I'll start working on something else on the 1st. I'll try to get the new DVD on the 5th, and add stuff from that, too. Keep sending in links! They don't even have to be of your own site. Send in links of sites that you like. Also, don't send links to cliques or web rings or anything. I hate them with a passion :-P
10-20-02 Cmonkey
The Krusty Krab is finally done! The long awaited tour. It's 9 pictures long. I can start the Links section now. I'm going to pour my heart and soul into this section. I'll start it soon, and add onto it for the next week or two.
10-18-02 Cmonkey
The Squidward's house tour is finished. It's up in the Misc section. I have to take the PSAT tomarrow : (. Waking up early on weekends is torture! Well, I'll work on the Krusty Krab tour over the weekend, and the I'll start the links section afterwards.
10-17-02 Cmonkey
I'm working on a tour of Squidward's house now. Its a lot bigger than the Patrick one. It should be up by tomarrow. Did you know that Squidward had an elevator in his house? I just found out now, while making the tour. I got a new technique for getting my pictures. It now takes about half the time for each one. Also, I've been searching around for SpongeBob stuff, and it's way harder than it should be. There's a complete lack of organization. So, I'm going to do the only thing I can do. I'm going to create a links section. But, not some crappy little list like other sites. I'm going to go through each site that I find, and give a description and rating to it. It's going to be a completely unbaised rating system. I'm going to start it as soon as I'm done with the Krusty Krab tour, some time next week. I'm planning on having this list be really huge, so if you have a site you want submitted, email me. Oh, and don't send banners or ads, I'm not going to put them up.
10-16-02 Cmonkey Online at last!
It finally worked!!! I'm back online. A whole week without the internet! I hope this never happens again! I got a lot to catch up on now. I'm uploading the stuff I worked on while my internet was down, and I have to read and respond to all the emails I got. It's going to be a busy day.
10-15-02 Cmonkey
Still no internet. I made a guided tour of Patrick's house. It's not very long because there isn't much in Patrick's house. Also, I'm getting DSL on November 5th! Finally, super-speedy internet access!
10-14-02 Cmonkey
Sorry I haven't updated. I'm having a lot of internet problems. Hopefully, I'll be getting internet back in a day or 2. In the mean time, I added 12 more Misc. Pics. It would have been too many for one section, so I split it into Misc. Pictures and Misc. Characters. It's just easier that way. I think I'm done with Multimedia for now. Time to make another one of those tours. Maybe the Krusty Krab this time. Oh, and Happy Columbus day!
10-9-02 Cmonkey
A lot of people have been emailing me about adding videos, so here ya go! The "Sweet Victory" song from the band geeks episode is there. I put up high and low quality versions this time. The big one is 4.8 MB and the small is 1.8 MB. The big one is near-crystal clear. The small is, well, tiny. Once I get DSL, videos will come more often. It's just a pain to upload with 56k. Enjoy!
10-6-02 Cmonkey
A full weekend of updates! I put up 8 more group pics today. Misc pics next. Also, thanks to ~Scott~ for telling me that Mrs. Puff's first name was Poppy. The surprise is getting closer now.
10-5-02 Cmonkey
4 more of Mr. Krabs. More group pics for tomarrow. I'm having a hard time thinking of new sections to add. Anyone have any ideas? email me at spongezone@softhome.net .
10-4-02 Cmonkey
4 more pictures of Squidward today. Mr. Krabs is up next. The surprise is still coming, I'm just having a hard time getting it. It's finally Friday!!! I'm getting tired of school :-P.
10-1-02 Cmonkey
It's a new month! And there's a small new part of the Misc section. It isn't just taking up space on your screen anymore! The new section is "Letters". In it are some of the more interesting emails I've recieved over the months. There are a boatload more, but you don't really want to read it all, so there are only 3 there now. I'll add a few more on the 1st of every month.