SpongeBob Volleyball
By Cmonkey
SpongeBob Volleyball is the first game I've made for Windows. It was mainly just to learn how to use game-making software, but I decided to put it on the site for everyone to enjoy. There are now 2 modes: One player and Two player. A 25% size screenshot is below. The game is now complete, and the final version is availible for download.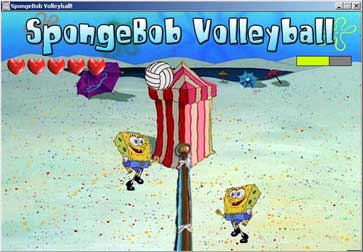 Change Log
Download Final Version - AI is more intelligent but less impossible. Scoring works again.
Download v04 - Added AI for a one-player mode. A bug makes Player one invincible in all modes. Dont worry, I'll fix it. But until then, choosing player one might help you in 2-player mode ;-)
Download v03 - Fixed scoring. Scoring graphics now shown during game. Much easier to start up now, and it takes up less space.
Download v02 - Added 2-player support.
Download v01 - First public release. A one player game.
Download v0.00000000000001 - The really messed up beta that Falco tested out for me. Use at the risk of insanity.